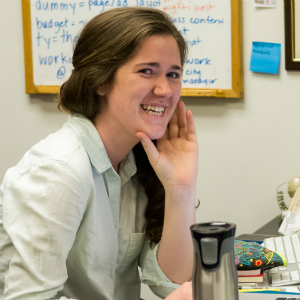 🌐 Victoria, Texas
Bethesda, Maryland
Ciara's Work
Follow Ciara's reporting here.
Bio
Ciara McCarthy has worked as an intern for the Marshall Project and a researcher at the Guardian U.S., where she contributed to "The Counted," an Emmy-nominated project on police killings. She later worked as a staff community reporter for Patch, covering neighborhoods in Manhattan. In college, she was the editor-in-chief of the Daily Northwestern, the respected student-run daily of Northwestern University. In her first year as an RFA corps member, McCarthy covered local government for the Victoria Advocate. In her second year, she will focus on rural public health.
Covering r
ural public health
In her first year, Ciara covered City Hall for the Victoria Advocate, the second-oldest newspaper in Texas, a 172 year old, family-owned daily newspaper serving the rural communities in and around Victoria near the Gulf of Mexico. During this time, she also helped her newsroom maintain continuing coverage of Hurricane Harvey recovery efforts in rural communities overshadowed by Houston flooding and calamities elsewhere.  In her second year, Ciara shifts her coverage gap and focus on rural public health issues in Victoria County and the Crossroads region, focusing on how local petrochemical plants impact residents' health, along with other issues specific to the state of rural health in the area.