Mallory Falk is a second-year Report for America corps member who spent her first year at KRWG and will now report for an exciting new public radio collaborative called Texas News Hub. She's an award-winning audio reporter whose stories have aired on regional and national programs like Morning Edition, All Things Considered, Here & Now and Texas Standard. Mallory answered a few questions about the new collaborative and covering the border for the latest edition of the Report Local newsletter.
1) Tell us about your new RFA placement at Texas News Hub, a new radio collaboration bringing together multiple public radio stations. What kind of stories will you be working on, and how will reporting for this outlet compare to working for a single station?
NPR is launching its first-ever regional news hub in Texas, to boost collaboration among the state's public radio stations and strengthen news coverage across the region. I will be reporting on El Paso for the Hub, focusing mostly on immigration and the border but also doing some general assignment reporting. As part of the Hub, my stories will air across Texas, on public radio stations from Marfa to Houston. I'll have the opportunity to collaborate with other Texas reporters, sharing information and teaming up on special projects.
This year, I contributed to a multi-part series on rural education in Texas. I look forward to more collaborations like this – exploring how one issue plays out in different pockets of the state.
2) One highlight of your work at KRWG was your ability to provide listeners with sights and sounds from the US-Mexico border. While immigration issues frequently make national news, they're local stories in west Texas and southern New Mexico. Does that dynamic play into your reporting, and what do you try to keep in mind when approaching stories about immigration?
When possible, I try to follow stories past the moment they break, after that initial rush of coverage. Last summer, the Trump administration's family separation policy dominated headlines. Several months later, I spoke with a local immigration attorney about the ongoing fallout. What issues was she still encountering, even after a judge ordered the federal government to reunify families? That led to a story about a mostly overlooked category of families, who were considered "reunified" even though the parents and children were still separated.
I also try to report on how national policies and rhetoric affect people here on the ground, whether that's college students wondering how they'll get to class if Trump shuts down the U.S.-Mexico border, or county officials scrambling to house asylum-seekers who've just been dropped off by Border Patrol.
3) Your multimedia stories help show audiences what life is like for newly arrived migrants and the communities they arrive in — but as journalists, we know that none of those stories can be told without gaining the trust of sources who share the details of their lives with you. What are some ways you've worked to gain trust with sources, and what kind of advice do you have for other journalists interested in reporting at the border?
I think it's important to remember that no one owes you their story, and to approach people with sensitivity and flexibility (building trust, for example, that you won't publish details that could put them at risk).
With long-term sources, some of it is getting that first story right – demonstrating that you can tell a story with the care and attention to detail it deserves, and that you won't violate peoples' boundaries. It may sound simple, but I think basic human decency can go a long way.
4) As a multimedia reporter, your stories bring audiences right to the scene with unique audio and concise storytelling. How do you see audio and radio reporting playing a role in the revival of local news?
Audio is so intimate. You're hearing someone's voice directly in your ear, without images to distract you. A long sigh, dramatic pause or deep belly laugh often reveals so much more than a reporter can put in writing. And it's (relatively) accessible; if you have a radio, computer or smartphone, there's a whole world of programs and podcasts open to you. You can catch up on the news while you're cooking, commuting, doing laundry or walking the dog. I think the intimacy and accessibility of audio make it a perfect medium for local news.
5) What's your favorite part about being a local news journalist? Are there any specific encounters or stories that stand out to you as examples of how you knew your presence and coverage was making a difference?
I love meeting and talking with folks from all over west Texas and southern New Mexico and getting to see them in action, whether that's doing work they're passionate about or goofing off with their loved ones. When I tell people what I do, one of the most common responses I get is something along the lines of "good, we need more reporters here." This region is full of important stories and I feel so fortunate to be here on the ground, contributing however I can..
Corps member Q&As are part of Report Local, a monthly newsletter from Report for America that highlights the work of RFA corps members and significant local journalism from around the country. Sign up here.  
---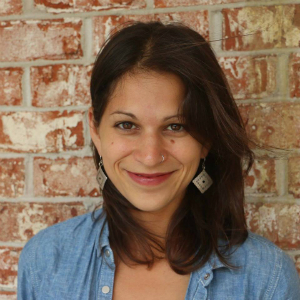 Mallory is a two-time Edward R. Murrow Regional Award-winner, a 2016 USC Annenberg National Health Reporting Fellow, and a radio journalist whose stories have aired on All Things Considered, Here & Now, and Texas Standard. She was an education reporter for New Orleans' NPR-affiliate WWNO and a producer of What My Students Taught Me, an education podcast from The Atlantic and Columbia Journalism School's Teacher Project. Earlier she served as communications director for Kids Rethink New Orleans Schools. Originally from Pittsburgh, Falk is a graduate of Middlebury College and the Transom Story Workshop.In her first year with Report for America, Mallory was a multimedia reporter for KRWG in New Mexico, covering education, healthcare, economic development and sustainability. In her second year, she will join Texas News Hub, based at KERA, to cover the borderlands and El Paso.