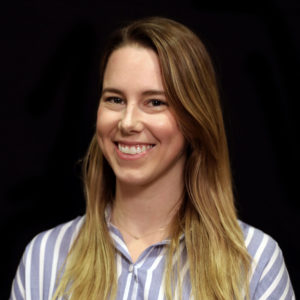 Emily Woodruff covers healthcare and public health in southern Louisiana for The Times-Picayune | The New Orleans Advocate with a focus on The Big Easy's metro region. As a healthcare reporter, Emily is a rare breed in the Pelican State, where few — if any — newsrooms have a full-time health reporter on staff, despite the fact that the state sits near the bottom of nearly every U.S. public health metric. The story of healthcare is also often the story of poverty in America, and the lack of coverage of health in a poor state like Louisiana means important stories are slipping through the cracks. We caught up with Emily to see what led the Florida transplant to cover this under-covered local beat.
What led you to become a Report for America corps member?
Most people I know have never had an interaction with the news and feel like reporters are talking about some unknown, hypothetical community when they read stories from big outlets. I wanted to make the news personal for a community. I wanted people to see themselves in my stories and give them a sense of ownership of their local news, regardless of the subject matter. Report for America offered an opportunity to do that in a really interesting city. 
I was also looking for a strong newsroom with great editors and other reporters to learn from. I'm so grateful to have landed where I did. 
What was the transition like moving to Louisiana to become a corps member?
I grew up in Florida, but I spent the last eight years in Los Angeles (with a brief stint in New York City for grad school). Coming back to the south was something that had been on my mind for some time. People let you into their lives here in a way that I haven't experienced elsewhere. It's a big city with a small-town feel — I've only been here a few months, but I run into people I know around town. There is nowhere like New Orleans, but the culture reminds me of my hometown in north Florida.
New Orleans has a population that believes in the power of the community. When I first arrived, I was wandering around the airport trying to find the rideshare pickup. Someone rushing in for a departing flight took one look at me and said, "You're lost. Where are you trying to go?" and pointed me in the right direction. I often feel like people are looking out for me. There's a "we're all in this together" mentality here. 
Currently, there is not a single, full-time health reporter working for any newsroom in Louisiana, a state that sits near the bottom of nearly every U.S. public health metric — what is it like covering this beat in a "health news desert"?
There are a lot of people doing great work covering health in Louisiana, but it's often through the lens of another beat, like politics or the environment. The health beat is pervasive that way — almost any story can be about health. That said, I've been lucky to be able to pick up the strings of stories other reporters aren't always able to unravel because health isn't their primary beat. 
What reporting challenges have you experienced while covering this beat?
Louisiana, and New Orleans in particular, has its own way of doing nearly everything, from the way streets are pronounced (Bur-GUN-dy, not BUR-gundy) to the structure of the school system (there are no public schools in New Orleans). It takes a while to learn the ins and outs of this special place. 
You've worked as a freelancer on the health beat. How has that background influenced your ability to find stories as well as working in a newsroom?
I come from a digital start-up background and was primarily working remotely before joining The Times-Picayune | The New Orleans Advocate. Being in a newsroom is so much more stimulating than working from my kitchen table. Just overhearing how other reporters handle breaking news or talk to sources is incredibly helpful. I'm also used to doing everything on my own for a story, from social media promotion to finding art to tracking metrics. Being on a team makes my work so much stronger. 
What's your favorite part about being a local journalist? Are there any specific encounters or feedback that you've received that stand out as moments when you knew your presence and coverage made a difference? 
I walked into a taco place near work not long after I started and one of the employees recognized me from some stories I had written. It meant so much to me to match a face to a reader who wanted to talk about what she had been reading. I love hearing from readers who are deeply invested in their community and local paper. Sometimes I get lengthy emails with tons of questions about something I've written about. I usually have to tell them I'm just a reporter, not a medical expert — but it's a good reminder that for some people, my story is their primary source of information about a health issue. 
Follow Emily Woodruff on Twitter.