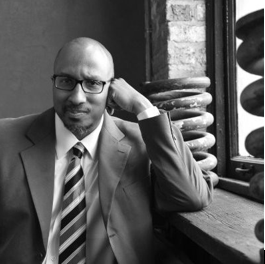 Norman Parish III, who over a three-decade career has worked in newsrooms in seven states, including as a metro editor in Chicago newsrooms, is Report for America's new Director of Recruitment. He begins Oct. 14.
Parish's role will involve recruiting a diverse group of talented, emerging journalists to report on under-covered beats and communities throughout the country. He'll also recruit varied newsrooms—non-profit and for-profit, dailies and weeklies, newspapers, digital only newsrooms, radio and TV stations—to partner with Report for America. (The window to host an RFA journalist in 2020 closes Monday. Apply here.)
The new position, based in Chicago, is particularly important as Report for America expands. Today, there are 60 corps members. Next year, RFA will place 250 emerging journalists. Ultimately, over several years, the aim is to recruit 1,000 journalists—and to maintain or beat the current corps makeup that includes 40 percent journalists of color.
"In this job, Norman will play a key role attracting the nation's best young journalists to help restore local news," said Kim Kleman, RFA's national director. "And his experience in all kinds of news organizations makes him perfectly positioned to help enlist partner newsrooms."
Most recently, Parish was the metro editor at the Daily Southtown, a Tribune Publishing Co. newspaper covering parts of Chicago's South Side and suburbs. Before that he was an assistant metro editor at the Chicago Sun-Times. He was also a reporter at the Sun-Times, St. Louis Post-Dispatch, Arizona Republic, (Cleveland) Plain Dealer, Milwaukee Journal, Post-Tribune (Northwest Indiana), and the Jackson (Tennessee) Sun. He also worked for several African-American publications including the Chicago Citizen newspapers, the St. Louis American and contributed to the NAACP's Crisis magazine. He is active in the National Association of Black Journalists, among other organizations, and has taught workshops for journalism students and helped high school journalists start a newspaper.
"I really agree with Report for America's mission in this crucial moment in journalism," Parish said. "At the same time, I have always been a proponent of diversity in the newsroom. I look forward to working with emerging journalists and various news outlets. I am excited about being a part of this organization."