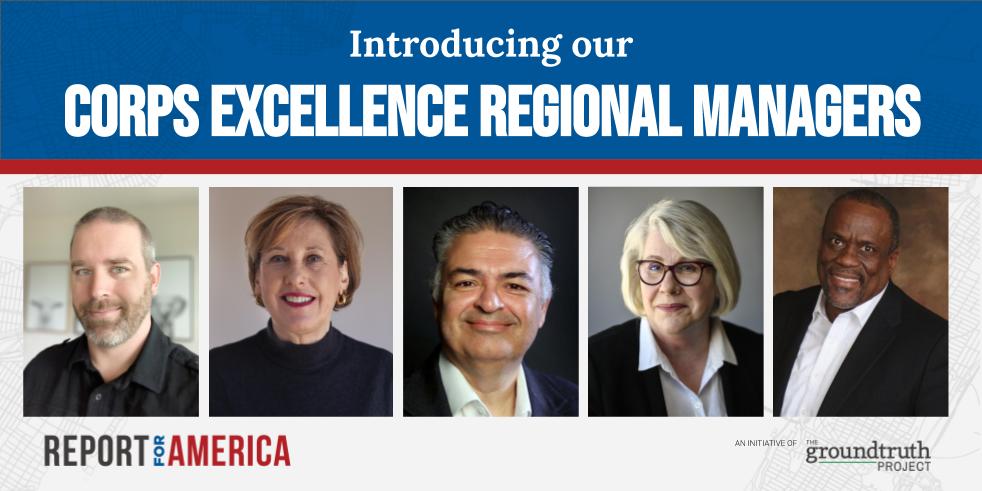 Report for America is pleased to welcome five new corps excellence regional managers to its staff: Jason Blakeney, Sergio R. Bustos, Pam Fine, Teri Hayt and Robert Naylor—combined, they bring more than a century of award-winning journalism experience to their new roles.
The group includes former leaders of professional organizations like the News Leaders Association and the Society of Professional Journalists; and multiple award recipients—to include Pulitzer Prize finalists. They will help the nonprofit program recruit and mentor its growing number of reporting corps members, strengthen newsroom relationships, and build partnerships with universities, journalism groups and other outlets.
"I am overjoyed at the team that we have assembled for our very critical corps excellence regional manager positions. Combined they bring more than 135 years of journalism and media training experience to the table," said Alison Bethel McKenzie, director of corps excellence at Report for America. "Our corps members and participating newsrooms will have this knowledge and experience at their fingertips and Sergio, Teri, Pam, Robert and Jason will ensure that the Report for America program continues to grow and thrive and that our emerging journalists will continue to produce excellent work on under-covered communities and issues across the country, in effect strengthening local news."
This year, Report for America nearly quadrupled its reporting corps by fielding 225 journalists in more than 160 local newsrooms across the country. The national service program looks to place 1,000 journalists in the field by 2024. The addition of the regional managers will help Report for America continue to scale these efforts while focusing on strategic relationship building within each region.
Report for America, an initiative of the nonprofit news organization, The GroundTruth Project, welcomes:
Pam Fine, Corps Excellence Regional Manager–Midwest
Fine is a veteran journalist and educator who has worked at major news organizations in Atlanta, Minneapolis and Indianapolis. Most recently, she held the Knight Chair for News, Leadership, and Community as a tenured professor at the University of Kansas, where she collaborated on projects with professional news organizations and taught reporting, ethics and other courses. 
"This will be a labor of love for me. The country needs great journalists, and Report for America is playing a groundbreaking role in developing a new generation of highly skilled reporters and strengthening local coverage," said Fine. "Those are goals I've dedicated my career to as a journalism leader and educator. I can't wait to get started."
Prior to joining the University of Kansas, Fine was managing editor of the Indianapolis Star where she expanded digital coverage and strengthened investigative reporting. Before that she was managing editor and vice president of the Star Tribune in Minneapolis. There, she led a major restructuring of news operations and a variety of high-impact journalism projects, including a finalist for a Pulitzer Prize. She is currently on the boards of the News Leaders Association Foundation (formerly ASNE Foundation) and The Beacon, a digital news startup focused on Kansas and Missouri. She is also on the Diversity, Equity and Inclusion Committee of the national Evans Scholars Foundation. 
Fine has a bachelor's degree in journalism from the University of Florida and a master's degree in media management from the University of Missouri-Columbia. 
Robert Naylor, Corps Excellence Regional Manager–Northeast
Naylor has more than three decades of experience as a reporter, editor, and news executive for newspapers, television stations, and The Associated Press. Most recently, he served as a consultant to Report for America's mentor program.
"I'm excited to be part of an organization whose mission and work are so connected to what inspires and motivates me, and whose people I respect and admire so much. I have always found great satisfaction and motivation in working with emerging journalists," Naylor said. "Anyone who knows me has heard me express concern for the future of journalism, which I believe is an underpinning of our democracy. Report for America and The Ground Truth Project are helping to create a new, solid future for our profession and I'm eager to contribute in whatever ways I can."
As director of career development for AP's News Division, Naylor implemented ground-breaking leadership and management development programs for editors and staff around the world. He also managed industry-leading student programs and partnered with human resources managers on recruitment and diversity initiatives. Prior to that, Naylor was AP's director of editorial planning, responsible for strategic, tactical, and operational planning. He previously was chief of bureau for Upstate New York and for Mississippi. He also spent five years in Washington, where he covered telecommunications, labor, Congress, and presidential politics.
A native of Meridian, Mississippi, Naylor received the Lifetime Achievement Award from the New York Association of Black Journalists and the Louis C. Inglehart Freedom of Information Award from the Society of Collegiate Journalists. He has a bachelor's degree in mass communications with a concentration in journalism from Jackson State University. He has professional certificates in leadership studies and emotional intelligence from the Cornell University School of Industrial. He also has a graduate certificate in servant leadership and a master's degree in organizational leadership from Gonzaga University. He received a professional coaching certification through the Life Coaching Institute of Orange County (CA).
Sergio R. Bustos, Corps Excellence Regional Manager–South
Bustos has been a journalist for more than three decades. He most recently was the deputy opinion editor at the Sun Sentinel. Over the span of his career, he reported, wrote and edited for newspapers, large and small, including the Staunton, Va., Daily News Leader, The Wilmington, Del. News Journal, The Philadelphia Inquirer, The Miami Herald and USA Today.
"The fact that so many journalists, so many media organizations and so many donors want to see Report for America succeed is a testament to the critical role it's playing in reporting on underserved communities across the country," Bustos said. "I'm thrilled to be part of the team."
He was a Washington correspondent for the former Gannett News Service and covered the 2016 presidential campaign for The Associated Press. He's also worked as an editor for POLITICO. 
Bustos has won several state and national journalism prizes, including the Robert F. Kennedy Journalism award and was part of a team of Philadelphia Inquirer reporters named as finalists for the 1995 Pulitzer Prize. In 1984, he graduated from Virginia Commonwealth University, where he studied mass communications. In 1992, he was awarded a yearlong fellowship to study international journalism at the University of Southern California in Los Angeles and at El Colegio de Mexico in Mexico City.
Jason Blakeney, Corps Excellence Regional Manager–Southwest
Blakeney has 15 years of experience, holding various editor titles throughout the United States, including the lead position on the Center for News and Design national desk, and planning editor at the Louisville Courier-Journal.
"It's an honor to join Report for America. The opportunity to help prepare the next generation of journalists for their careers while helping them give voice to the voiceless is a responsibility I don't take lightly," Blakeney said. "I look forward to building strong relationships with our corps members and participating newsrooms to be certain everyone is getting the most out of the experience."
Blakeney was previously the executive editor of GateHouse Media Northwest Florida, where he oversaw the combination of the Northwest Florida Daily News, Panama City News Herald and 10 associated non-daily products into a single newsroom workflow. A 2002 graduate of the University of Alabama, Blakeney began his career at the Phenix Citizen in Phenix City, Alabama, before joining the sports department of the Pensacola News Journal.
Teri Hayt, Corps Excellence Regional Manager–West
Hayt most recently was the interim executive director of the News Leaders Association. During 35 years in the publishing industry, she has held staff management positions at Time-Life Books, Inc., Sports Illustrated, The San Diego Union, Newsday and The Orlando Sentinel.
"I cannot think of a more important mission than helping local news organizations tell the stories of their communities. The journalists that Report for America send across the country will provide in-depth, fact-based journalism, particularly to underserved audiences," Hayt said. "I'm proud to be a part of this effort."
Hayt helped merge the American Society of News Editors with the Associated Press Media Editors to form the News Leaders Association in 2019. Previously, Hayt was the executive editor for GateHouse Media Ohio and the managing editor at the Arizona Daily Star. 
She received the Society of Professional Journalists 2012 Sunshine award and directed coverage of "Barriers to Mental Health" which received APME's 2011 Public Service award. The series documented the obstacles for seeking help for the seriously mentally ill. The project followed the deadly shooting in Tucson, AZ, that killed six and wounded thirteen, including U.S. Rep. Gabrielle Giffords.
Hayt is a member of the Society of Professional Journalists, is a past president of the Arizona Newspaper Association, was the First Amendment chair and vice-president for the national Associated Press Media Editors organization and was a member of the APME board from 2010 to 2015. She served as a Pulitzer jurist in 2014.
Report for America is now seeking experienced journalists to serve as mentors for the incoming reporting corps members. To learn more about partnering with Report for America, visit www.reportforamerica.org. 
About Report for America: Report for America is a national service program that places talented emerging journalists in local newsrooms to report on under-covered topics and communities. Launched in 2017 and donor-financed, Report for America is creating a new, sustainable system that provides Americans with the information they need to improve their communities, hold powerful institutions accountable, and rebuild trust in the media. Report for America is an initiative of The GroundTruth Project, a registered 501(c)(3) nonprofit organization. GroundTruth is an award-winning nonprofit media organization with an established track record of training and supporting teams of emerging journalists around the world and in the US.