Our 2019 corps members spent one week in Houston, Texas, training with top journalists from around the country. This included attending three days of RFA-exclusive sessions, the Investigative Reporters and Editors conference, several smaller RFA gatherings and evening events. Here are highlights from those sessions.
Ever hear a reporter referred to as a "quote journalist" or an "anecdote journalist"? Probably not. Dan Nguyen says "data journalist" is equally silly. Every journalist who gathers information is a data journalist, said Dan, a reporter who specializes in data and who spoke to our 2019 corps members.
Labels aside, using data as a jumping off point for stories can fuel reporting with impact. This might mean creating easy-to-use databases for public officials' salaries that show taxpayers where their dollars going or showing why gun violence is declining in a certain area. And every data journalism story, just like any other, merits smart, rigorous reporting.
"Publishing a pile of data is as useless as publishing a pile of random anecdotes," Dan said.
Here are more data tips and reporting strategies discussed at Report for America's 2019 training:
*While not every data-based story is going to take a year-long investigation, the mere existence of a useful data set doesn't mean the story will be easy to pull off, says Dan Nguyen. "Hard, important stories need hard-working journalists," he said, referring to the fact that reporters still need to find sources, check facts and more. "Not data dumps."
*But data can be useful for the quick and the curious, Dan said. Slicing datasets in interesting ways can yield novel stories, like looking at new Social Security name data to figure out how many parents are naming their kids after "Game of Thrones" characters (or figuring out how many of those parents might have regrets after a plot twist).
*Lomi Kriel of the Houston Chronicle spoke with our reporters about how to localize on the immigration beat — check out her "Alphabet Soup" presentation for a run-down on the myriad agencies involved in immigration and how to find stories in their data.
*Robert Hernandez, an associate professor at USC Annenberg School for Communication and Journalism, shared his personal list of the best apps and digital tools for journalists. They include programs like Infogram for building charts and graphics and the free sound editing program Audacity. For visual journalists, Robert also suggested the Insta360 as one of the most affordable 360-degree cameras out there.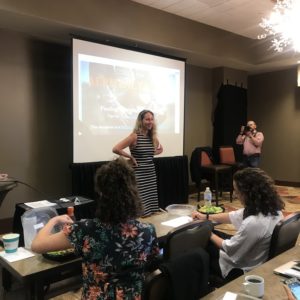 *Finding great stories doesn't always mean focusing on the negative aspects to a government or institution, says Sarah Gustavus of the Solutions Journalism Network. What's solutions journalism? It's not advocacy journalism and it's not hero worship; rather, solutions journalism is "rigorous, evidence-based reporting on responses to social problems."
*For example, don't always report only the "worst" ranking or stat. Instead, dive into the so-called positive deviant, like a hospital that has the lowest Caesarean birth rate, instead of only where it's the highest. Click here to read Sarah's presentation on solutions journalism.
*Beena Raghavendran of ProPublica's Local Reporting Network recommended corps members join Facebook groups relevant to their beats. You might get blocked for not being the target group — Beena has! — but it might help you meet sources & learn more about the topic.
More highlights from our training:
How to Engage with the Community You Cover
How to Develop Sources in a New Community or Beat