Sixteen of us gathered in a neighbor's living room last week, eager to hear from a mayoral candidate invited to discuss her platform. First, we were all asked to introduce ourselves and share why we decided to come.
"There's no local newspaper anymore—I can't find out what's going on unless I show up myself," one neighbor lamented. Others agreed.
Today, on the eve of Election Day, it's easy to see the loss in the lack of coverage of candidates, referendums and races. It's no surprise that skimpy election coverage leads to a less informed electorate and lower voter turnout. It's also no surprise that the decline of local news is considered a threat to democracy.
But the gutting of local news—we're losing two newspapers per week, and more than 2,000 in the past 20 years—affects the public's understanding of so many other issues, as well.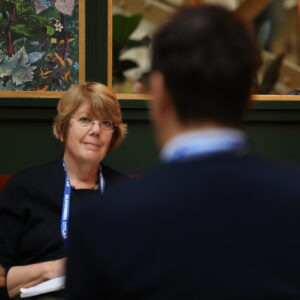 I was a recent guest at Bloomberg CityLab, a conference in Washington, D.C., for hundreds of mayors and other city leaders from around the world, grappling with critical issues like gun violence and climate change, and sharing creative solutions to municipal problems. I spoke on a panel at the event, sponsored by Bloomberg Philanthropies and the Aspen Institute, to share how Report for America is helping local newsrooms by teaching them how to become more sustainable, recruiting and training local reporters, and subsidizing their salaries. Many attendees told me they hadn't realized local news was in crisis, why it should matter to city officials, or what was being done to counter the trend. But just think how many of the issues communities face could be solved with a better-informed public.
A week later I took part in NewsLitCamp sponsored by the News Literacy Project in partnership with Report for America. It was a day of learning for the nation's educators, focused on how to combat misinformation and disinformation. I shared details of the local news crisis, including the kinds of education stories that our reporters are covering that otherwise wouldn't have been reported. They include stories on poorly maintained and dangerous schools in Idaho and Texas, and why bond issues to fix them never pass; schools in Alabama not signing up to extend free breakfast and lunch to their students; and child-care subsidy glitches in Michigan leaving parents and child care providers in the lurch.
At both events, one thing rang true: No matter what local issue you care most about, your No. 2 issue should be local news, because trustworthy information is key to achieving any other goal. Alberto Ibargüen, president of the Knight Foundation, a big journalism funder (including to Report for America), has made this point repeatedly to donors; and it applies to all the rest of us, too. 
What can cities and individuals do to support local news? Here's what I think; I'm interested in your ideas, too:
Encourage your local community foundation to establish a Community News Fund. These funds attract donors to support multiple newsrooms in the foundation's coverage area over several years. 

Advocate for local officials to spend more municipal ad dollars with local and hyperlocal media. They're often more trusted sources than national media. 

Promote affordable housing policies, so reporters can afford to live in the community where they work. 

Promote easy access to public records, so reporters can do their jobs efficiently. Too often, they're forced to file Freedom of Information requests for records that are obviously public, which creates time-consuming bureaucracy.  

Buy a subscription, become a member or make a donation. 
In my city, a multimillion-dollar project to build a fire station has languished. Schools are overcrowded. The roads are in bad shape. If there had been a few watchdog local reporters around, I wonder how many of these problems would be a mayoral candidate's platform today.
About Report for America
Report for America is a national service program that places talented emerging journalists in local newsrooms to report on under-covered topics and communities across the United States and its territories. By creating a new, sustainable model for journalism, Report for America provides people with the information they need to improve their communities, hold powerful institutions accountable, and restore trust in the media. Report for America is an initiative of The GroundTruth Project, an award-winning nonprofit journalism organization dedicated to rebuilding journalism from the ground up.