Hispanic and Latino journalists are historically underrepresented in journalism, with higher estimates estimating they make up around 11% of newsroom staff. Report for America is changing these statistics. We currently partner with five Latino-owned newsrooms. Roughly 21% of our corps members identify as Hispanic or Latino, and many of them cover beats specific to Latino communities. This Hispanic Heritage Month, we spoke with a few of these corps members to understand what drives them, and why their heritage is an important part of their coverage. 
Meet Amir Khafagy
Amir Khafagy is a corps member based in New York City, where he covers labor for Documented, a nonprofit news site that focuses on the city's immigrant communities. Through his reporting, Khafagy explores the intersections of labor, race, class, immigration and urban policy, and has broken stories ranging from UPS warehouse workers battling excessive heat to the city's policing of street vendors.
For Khafagy, it's important to recognize the multi-faceted nature of Latino identity, and the diversity of racial, cultural, and linguistic traditions that exist within it.
"Being of Egyptian/Puerto Rican descent and growing up in a Muslim working-class family, my 'Latino' experience has been complicated, to say the least," he says.
Now, as an adult, he recognizes that his multicultural heritage enables him to navigate these intersections of identity in his own community, and bring a deeper level of understanding to his work.
"I have grown to embrace the complexities of my identity. It allows me to move in between the communities and report with a greater amount of empathy. … Many Spanish-speaking immigrants in the U.S are working-class people with complex identities, like mine."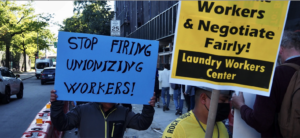 Most recently, Khafagy covered a story about indigenous Maya demolition workers who were working in unsafe work sites in New York. Khafagy found that after several workers began to organize for better working conditions, they were fired. Faced with threats, retributions and an alleged anti-union campaign, they have escalated their fight to not only regain their jobs, but to make the environment safer — and better— for future employees.
"These workers are minorities not only in this country, but also in their home country of Guatemala as well," he notes. "The history of persecution has made them more resilient than most and instilled in them a deep determination to fight back against wrongdoing. It's a beautiful story of working-class solidarity."
His parting words?
"Most of my family was born outside the U.S. and came here looking for their piece of the American Dream. Instead, like most immigrants, they have struggled every day just to make ends meet. As a reporter, I'm interested in elevating the stories of what immigrant workers have to endure to simply make ends meet."
Want more of Amir's reporting? Follow him on Twitter: @AmirKhafagy91 or check out his website: amirkhafagyjournalism.com.
About Report for America
Report for America is a national service program that places talented emerging journalists in local newsrooms to report on under-covered topics and communities across the United States and its territories. By creating a new, sustainable model for journalism, Report for America provides people with the information they need to improve their communities, hold powerful institutions accountable, and restore trust in the media. Report for America is an initiative of The GroundTruth Project, an award-winning nonprofit journalism organization dedicated to rebuilding journalism from the ground up.