I can't say that I was surprised when I noticed that Stars and Stripes was trending on Twitter last Friday, following USA Today's column about Pentagon plans to shutter the newspaper. I served as a military journalist in the Marine Corps for nearly a decade, so I've seen more than a few attacks on the paper over the years.
I must admit that I was pleasantly surprised when President Donald Trump vowed in a tweet that the newspaper's funds would not be cut. Yet, I just couldn't help but to reflect on another post I had read the day before.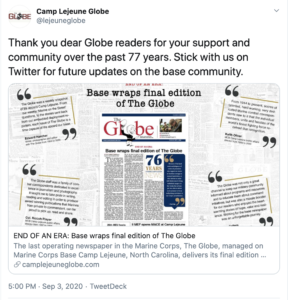 "Thank you dear Globe readers for your support and community over the past 77 years. Stick with us on Twitter for future updates on the base community," tweeted the Camp Lejeune Globe, along with a link to "END OF AN ERA: Base wraps final edition of The Globe."
The Globe was a weekly newspaper that served Camp Lejeune, N.C., the largest Marine base on the east coast. It was the last remaining weekly printed newspaper in the Marine Corps before it's last edition on Sept. 3.
Seeing any newspaper fold is difficult. After all, at Report for America, we're constantly searching for ways to prevent the collapse of local news, to help newsrooms report on the under-covered issues that matter most to their communities—to include military and veterans affairs.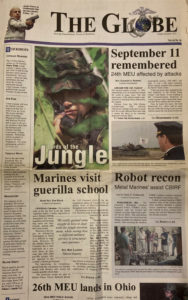 But personally, this was a true kick in the gut—The Globe was my first print newsroom. It was there that I learned the fundamentals of writing news, taking photographs, and even developing film. I spent much of my time on the sports desk and fondly remember covering events like the USA Boxing Championships. 
We didn't do investigative journalism at The Globe; however, we did keep the Marines, sailors and their families that lived and worked on the base informed about the issues that concerned them. It's easy to only think of the "bigger stories" like the deployment of units overseas. But we also wrote about the base schools, healthcare, infrastructure projects, environmental issues—all the things that good local newspapers write about (minus politics). We even had a "Marine on the Street" column.
I can't help but to wonder who will pick up the slack. Granted, there will be online news in some manner—but will it be enough? I think in some ways, having to fill a paper forced us to write more. I'm hopeful that neighboring local civilian newsrooms will expand their coverage of the base.
Working at Report for America, I'm fortunate to see coverage of military communities through the reporting of our corps members, like Abbie Shull, at The News Tribune. She covers Joint Base Lewis-McChord, just outside of Tacoma, Wash., a huge and under-reported part of the local economy. Soon after arriving there this summer, she reported on how local veterans could receive extra financial help related to COVID-19.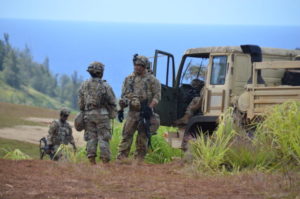 Meanwhile, Kevin Knodell, Honolulu Civil Beat, is covering Hawaii's large military and veteran community. His recent article about Marines protecting the nests of endangered sea turtles made me think back to the woodpeckers that often affected training at Lejeune.
And just this past weekend, Heather Mongilio, Capital Gazette-News, broke a story about the effect COVID-19 has had on the morale of midshipmen at the U.S. Naval Academy. She's also written about potential changes to ambulatory medical care at Fort Meade, Md.
At Report for America, we'd love to see even more journalists reporting locally on military and veterans affairs. We don't often think of it, but we remain a country at war. Those who defend our freedom of the press deserve access to it—and now is the perfect time. Report for America is currently accepting applications for host newsroom partners, through Sept. 30. 
Will you join us?
About Report for America: Report for America is a national service program that places talented emerging journalists in local newsrooms to report on under-covered topics and communities. Launched in 2017 and donor-financed, Report for America is creating a new, sustainable system that provides Americans with the information they need to improve their communities, hold powerful institutions accountable, and rebuild trust in the media. Report for America is an initiative of The GroundTruth Project, a registered 501(c)(3) nonprofit organization. GroundTruth is an award-winning nonprofit media organization with an established track record of training and supporting teams of emerging journalists around the world and in the U.S.