Report for America, Military Veterans in Journalism partner to enlist former service members in local newsrooms
Let's face it, journalism isn't exactly the most glamorous of professions. It doesn't always pay all that well. Not every story is exciting. And the stereotypes that lead to mistrust of the media? We'll save that for another day.
The truth is that journalism is a public service—an opportunity to inform the public while holding officials accountable. It is a calling for many reporters, very much like the military is for some.
Report for America looks to tap into this calling by attracting more military veterans for its reporting corps, and is turning to organizations like Military Veterans in Journalism (MVJ) to bolster its efforts.
"Broadly speaking, veterans look for impactful ways to continue their service. We know that journalism is critical for our democracy. It's part of why we've had hundreds of vets join our community," said Zack Baddorf, executive director and founder of Military Veterans in Journalism.
Among those being sought are veterans like Brandon Lingle who retired last year after serving 24 years in the United States Air Force. Lingle now writes for the San Antonio Express-News as a corps member.
"Throughout my military career, I was lucky to help tell amazing stories. No matter the role—leadership, public affairs advisor or Air Force Academy English professor—I was always working with narratives," Lingle said of his transition into journalism, eased by his work as a public affairs officer with deployments to Iraq, Afghanistan and Korea. 
Meanwhile, there are many veterans who don't leave the service with backgrounds like public affairs that lend themselves to journalism. Yet the desire to serve is there.
"I often describe this job as kinda like the infantry but no one thanks you for your service and you don't have to kill anyone," said Chris Jones, a Marine veteran who found his way into journalism after having served as a machine gunner in Afghanistan. 
"Spending 4 years as a machine gunner meant I was really only good at carrying heavy objects for long walks, staying calm when bullets started flying, and putting up with a lot of logistical nightmares and uncertainty," Jones said. "Journalism seemed like a good option to put the skills I had developed in the field to use."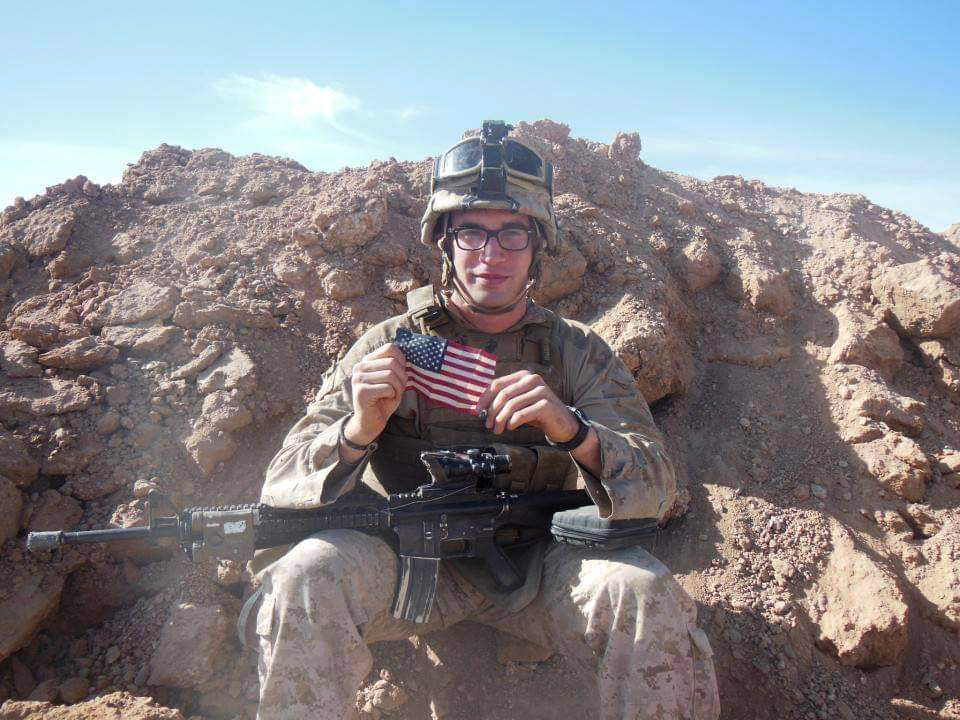 Following the Marines, Jones attended Columbia University, where he majored in nonfiction writing and did freelance reporting before being selected by Report for America last year.
While working as a journalist might be safer than combat, Jones's work covering white supremacy and extremism for 100 Days in Appalachia, especially surrounding the presidential election, hasn't been without its own challenges. Just days after being named a Top Ten Veteran in Journalism by MVJ, Jones was on the ground covering pro-Donald Trump protestors when they laid siege to the U.S. Capitol, Jan. 6.
"Veterans like Chris bring a lot of valuable skills and experience to newsrooms," Baddorf said. "Unfortunately, our community remains vastly underrepresented in newsrooms across the country, but we are working hard to create opportunities for more vets to get into America's newsrooms."
While about 7 percent of Americans have served in the armed forces, only 2 percent of media workers are military veterans, according to U.S. Census data. To help change this, MVJ will tap into its broad, national network to help create greater awareness for Report for America's opportunities in more than 200 local newsrooms.
Applications are being accepted now until Jan. 31. Corps members will be selected from a highly-competitive, national competition. Those hired become employees of their respective newsrooms and will begin their employment June 1, 2021.
To learn more about Report for America and its mission to strengthen our communities and our democracy through local journalism that is truthful, fearless, fair and smart, visit www.reportforamerica.org.
About Report for America
Report for America is a national service program that places talented emerging journalists in local newsrooms to report on under-covered topics and communities. Launched in 2017 and donor-financed, Report for America is creating a new, sustainable system that provides Americans with the information they need to improve their communities, hold powerful institutions accountable, and rebuild trust in the media. Report for America is an initiative of The GroundTruth Project, an award-winning nonprofit media organization with an established track record of training and supporting teams of emerging journalists around the world and in the US. Report for America is a MacArthur Foundation 100&Change finalist, a global competition for a single $100 million grant.