There are a lot of stereotypes about journalists, their beliefs and where they come from. The reality is that they come from all walks of life—to include military veterans who have traded in their tactical gear for microphones, cameras or the all-mighty pen.
Report for America salutes those who've served in uniform, including our corps members and staff who are veterans. This Veterans Day, we asked some of our corps members to share why they served and how they made the decision to continue their public service as journalists.
Less than two percent of media workers are veterans, according to Military Veterans in Journalism, a professional association that advocates for diversifying newsrooms through hiring and promoting more vets. With applications for next year's corps opening in a few short weeks, we also asked our veterans to offer their advice to those who might be considering a career in journalism.
Brandon Lingle 
Brandon Lingle retired earlier this year after serving 24 years in the United States Air Force. His military service as a public affairs officer included deployments to Iraq, Afghanistan and Korea. Lingle now writes for the San Antonio Express-News. Twitter/@Brandlingle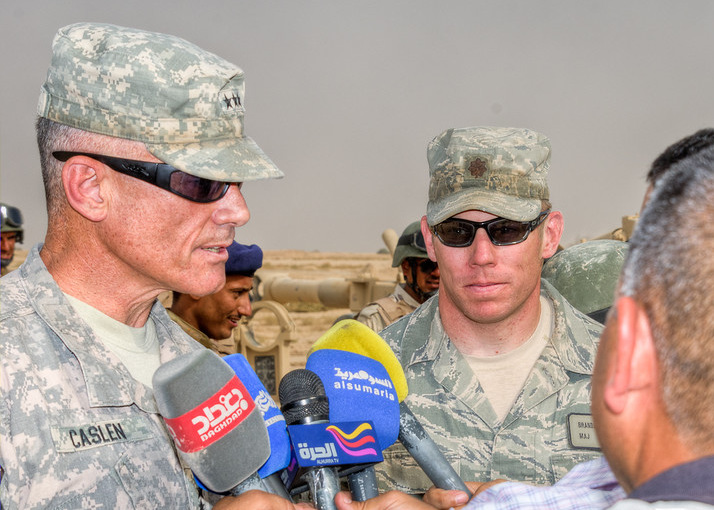 Why did you join the military?
Like many, my family carries a strong tradition of military service, and I grew up in a small town near Vandenberg Air Force Base, California. The base's missile launches and air shows intrigued me. I was part of the generation of kids influenced by the movie "Top Gun," and when I was in the eighth grade we attended a family friend's Air Force Academy graduation. Those experiences gave me the goal of attending the Air Force Academy to become a pilot. The pilot path ended up not working out, but it opened my career to other opportunities.
What aspects of military life have helped your transition into journalism?
Throughout my military career, I was lucky to help tell amazing stories. No matter the role—leadership, public affairs advisor or Air Force Academy English professor—I was always working with narratives. This interest in communicating, and finding truth, has helped me transition into journalism. Military service also instilled values like integrity, selflessness and striving for excellence, as well as the importance of efficient and concise communication. Finally, the military's concern with timeliness and deadlines translates well to journalism.
What challenges have you faced in your transition?
The pandemic has thrown the most curveballs in starting a new career in journalism—no newsroom, limited in-person interviews, a dependence on phones and online meetings, learning systems virtually, etc. Things move a little slower and that takes patience. Also, working from home adds a new dynamic to maintaining work-life balance. It's harder to unplug when you're at home, but it's also nice to not deal with traffic and other hassles of going to a workplace every day.
What advice would you give to fellow vets considering a career in journalism?
Those who are getting out of the military should use all the resources they can to learn about the industry. There are many courses, internships, networking opportunities and programs—including Report for America, Military Veterans in Journalism, LinkedIn, Four Block, American Corporate Partners, DoD's Skillbridge, USO's Hire our Heroes and more—that can help people get into this business. Those who are already out of the military have access to most of these programs too. Networking and building connections with people in the industry is crucial. Most people are willing to share some time to talk about their experiences.
***
Chris Jones
Chris Jones served as an infantryman in the United States Marine Corps from 2010-2014. His military service included two deployments to Afghanistan. Jones is now a digital and forensic reporter with 100 Days in Appalachia, where his reporting focuses on white supremacists and their disinformation campaigns. Twitter/@GWOTTrapLordz
Why did you join the military?
My dad was going to Afghanistan with the U.S. Army Corps of Engineers, I was getting into trouble and thought that I might be taking someone else's place that had a better handle on life. In hindsight this was all fairly stupid (not to mention egomaniacal), but very on brand for an 18-year-old.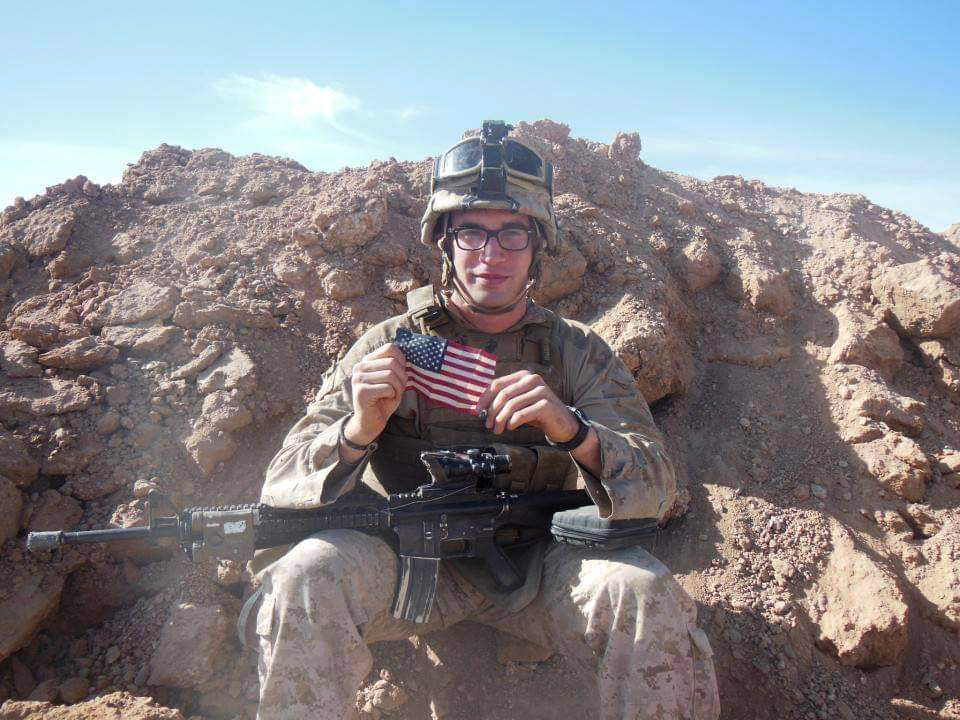 What led you to journalism?
Coming back from the war, I realized that most Americans simply didn't care about the Global War on Terror. More disturbingly, I noticed that the reporting that was coming out of the war I'd just fought was largely misleading, or at the very least only offered a very slim perspective on what was happening. The relationship between the press and the DoD (Department of Defense) in Afghanistan in 2014 was comfortable—newspapers and cable news networks would run DoD press releases as articles, and it seemed like no one was actually talking to Afghans about the war we were fighting in their country. 
Spending four years as a machine gunner meant I was really only good at carrying heavy objects for long walks, staying calm when bullets started flying, and putting up with a lot of logistical nightmares and uncertainty. Journalism seemed like a good option to put the skills I had developed in the field to use.
What aspects of military life have helped your transition into journalism?
Rucking, gear accountability, flexibleness and a results oriented mindset. The ability to solve a problem rather than run to doctrine.
Being a veteran also helps you hone your bullsh** detector—trusting the same lizard brain instincts that got you out of a firefight or away from an IED (improvised explosive device) will help you find the story buried underneath PR (public relations) smoke, or see through your interview subject's canned responses and find the subtext that will take you to the real nut of the story. 
Sometimes getting a story means standing still for hours on end waiting for someone to walk out a door or have a meeting—I never thought standing post would help my career but I can honestly say it has sometimes.
What challenges have you faced in your transition?
Losing the jargon and acronym soup. Your editor will not know what a text message that says "rgr have eyes on, will RTB NLT 1800" means.
I think as a journalist with military experience it can be difficult to address your health aspects, especially mental health. It's doubly important to set an example for other journalists as well as other veterans by being open and upfront about your own mental health and what you're doing to address it.
Learning that not everyone is able to handle the same level of physical and mental stress can be challenging, and it's important to shift your expectations so you don't become frustrated.
What advice would you give to fellow vets considering a career in journalism?
If you feel called to a form of public service that pays like sh**, demands long hours, makes everyone around you annoyed if you're doing your job right, become a journalist.
If you like all that plus you want to spend most of your day on your feet running with gear in order to make snap decisions under pressure with no do-overs, become a photojournalist.
If you like all that plus you want an additional couple hours hunched over a laptop working with complex editing software on a deadline, become a video or radio journalist.
I often describe this job as "kinda like the infantry but no one thanks you for your service and you don't have to kill anyone."
***
Jelani Gibson
Jelani Gibson served as photojournalist in the United States Air Force from 2012-2015. Gibson is now applying those skills at the Kansas City Star, as part of a team examining gun violence in Missouri. Twitter/@JelaniGibson1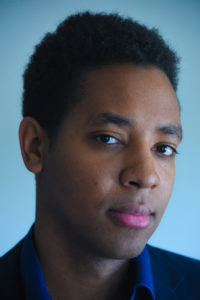 Why did you join the military?
The military offered upward economic mobility and a skillset in my chosen profession, which was journalism. Journalism schools offer the promise after four years and college debt. My recruiter managed to get me a guaranteed slot to be a public affairs photojournalist. I could get the job, get college credits while inside the military, and use my GI Bill for grad school with established work experience, all while getting paid to do so. Plus, jets!!! Jets beat a city hall meeting any day of the week in terms of keeping my attention span. Given all those factors, that route seemed like the more practical option. Culturally speaking, having a mission, a supportive organization that's well resourced and teammates willing to sacrifice with discipline in the most stressful of circumstances was a workplace I was interested in being a part of.  
What led you to journalism? 
I'm from D.C., born and raised, so I remember always picking up the Washington Post to read. In the 1990s and early 2000s, there were still so many print papers lying around the metro on buses and train stations I rarely had to pay for them as a teenager. I'd pick whatever section was left when another adult was done reading it. You could always tell what part of town you were in, depending on what section was missing. 
On my side of town, the local and sports section would always be missing, so I always ended up reading all of the international and investigative pieces. When you got to the downtown and Capitol Hill area, those sections would be missing! So I made a habit of scrounging for the sections I wanted depending on what metro line I was on. 
When I attended boarding school within D.C., it was the first of its kind in the inner city, so a New York Times reporter came and interviewed many students, including my roommate and me. I always found these people who told stories for a living to be exciting and have a certain amount of agency.
I always said I wanted to do it, but lost sight of that goal freshman year when I was in college. Between the unpaid internships and everything else, it didn't seem realistic for me. When the military offered me an opportunity to be a photojournalist on a more immediate and permanent basis, it was as if the universe was reaching out and giving me a blatant opportunity to be what I'd always been interested in reading. 
What aspects of military life have helped your transition into journalism?
I was already a journalist! So, that helped a lot when it came to becoming a civilian one. It's not as public relations oriented, so you have to get more used to criticizing authority than you would in the military, but I didn't look at that as a challenge. After years of working in an institute where you may not have as much autonomy to be critical, finding that voice is refreshing. The daily grind and demand of moral clarity, ethics and intensity to complete the mission also served me well when completing projects and being in team environments. 
What challenges have you faced in your transition?
Since I went straight from the military to the journalism workforce, there were some traditional civilian journalism things I'd never been taught about. I didn't initially know that much about organizations like NABJ (National Association of Black Journalists) and SPJ (Society of Professional Journalists). In the military, being in the military is your identity, but outside of it, being a journalist is an identity in and of itself. I wasn't used to that cultural dynamic. 
I knew about the federal government, but I didn't know that much about covering local news. I was good at writing, building relationships and taking pictures. Still, internal politics and cultural nuances about civilian journalism were embedded with a rich history. All of my coworkers knew that history, I didn't. I knew how to do journalism, but I was not aware of its history and the industry's state. That knowledge is arguably just as crucial as the skill set itself. 
Fortunately, I had a good editor who was willing to mentor and a publisher who had sons in the military. The hiring editor himself was a veteran, so transitions for vets are smoother when other veterans and civilians willing to mentor are involved in the onboarding process.  
What advice would you give to fellow vets considering a career in journalism?
Learn the history, learn the industry, learn the publications you want to work for and then plot a career path to get there. Then realize that it's not going to happen overnight and be prepared for detours along the way. Look up what school you would like to attend and identify the faculty that specializes in the type of journalism you want to do. That planning process should happen before, not after one leaves the military. Also, for those still in the military, please exhaust that tuition assistance and other educational opportunities. 
Much like the military, being a civilian journalist is a lifestyle of sorts, and that lifestyle can be stressful. Make sure you still take the time to self-care and don't be overwhelmed if everything doesn't make sense all at once. It's not supposed to. Find your footing, give yourself grace, and learn to enjoy the process.
***
Anthony Vazquez
Anthony Vazquez served in the United States Marine Corps from 2010-2014. His military service included two deployments to Afghanistan where he supervised flight line operations of multiple airfield control groups as well as aided in medical evacuations of injured personnel by securing and designating landing zones for helicopters. Vazquez is now a photojournalist at the Chicago Sun-Times. Instagram/@avazquezphoto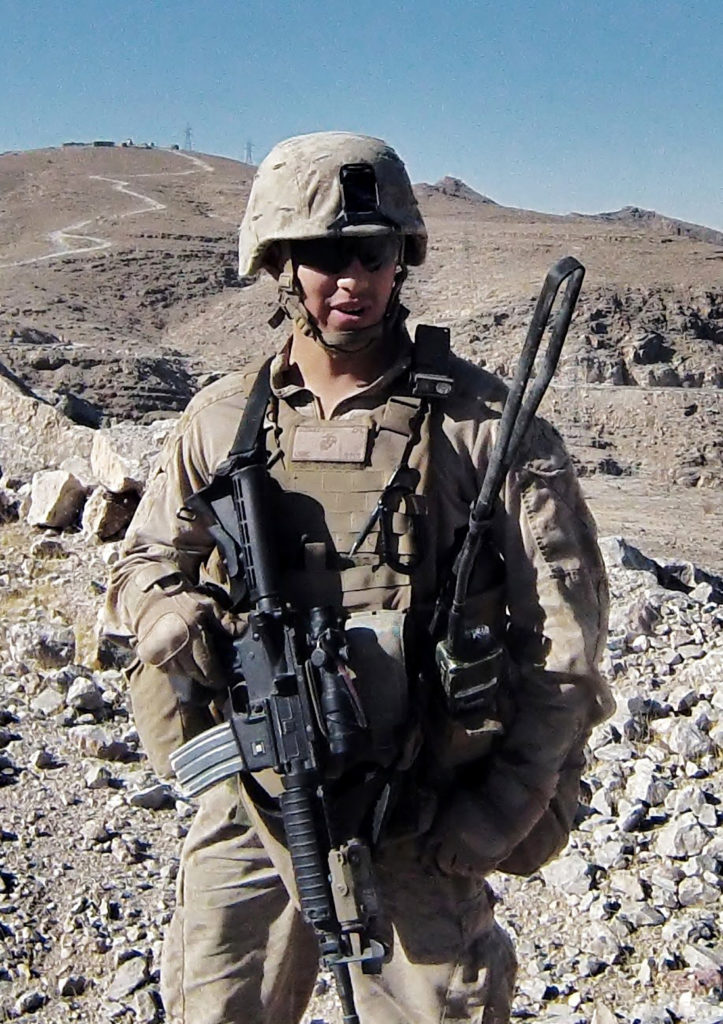 Why did you join the military?
I joined the military after completing two years of community college and still not knowing what I wanted to major in at college. I didn't want to transfer to a large university without having a solid idea of what I wanted my future to look like. Without an alternative, I decided to join the military to see what opportunities it could give me and see if it would help direct what I wanted to do in the future. I decided on the Marine Corps because of the reputation of being the toughest and most selective of the branches. 
What led you to journalism?
My time on deployments opened my eyes to the tragedies of war and really motivated me to share what I saw in some form that people who are not in my situation would understand and learn from. In addition, the different perspectives and backgrounds of the fellow Marines that I met during my four years made me appreciate the personal story everyone has and how sharing it with others can make people come together and understand differences in opinion. 
What aspects of military life have helped your transition into journalism?
The discipline, self sufficiency, and getting the job done no matter the difficulties were the main things that carried over. Journalism requires a lot of self determination to identify a story, find sources, and piece it together and having faced the physical and mental strain of the military it made the demands of journalism seem easy in comparison. 
What challenges have you faced in your transition?
No big challenges yet, the get it done work ethic I took away from the military has made any challenge or obstacle manageable enough to overcome.
What advice would you give to fellow vets considering a career in journalism?
It's a tough industry to enter but having the training, discipline and experience of the military gives a veteran a different perspective that is valuable to a newsroom. If attending a university, start by working with the school newspaper to build up experience. The challenges of journalism will be different than what was experienced in the military but as a veteran it won't be anything that you can't handle.
***
About Report for America: Report for America is a national service program that places talented emerging journalists in local news rooms to report on under-covered topics and communities. Launched in 2017 and donor-financed, Report for America is creating a new, sustainable system that provides Americans with the information they need to improve their communities, hold powerful institutions accountable, and rebuild trust in the media. Report for America is an initiative of The GroundTruth Project, a registered 501(c)(3) nonprofit organization. GroundTruth is an award-winning nonprofit media organization with an established track record of training and supporting teams of emerging journalists around the world and in the US.